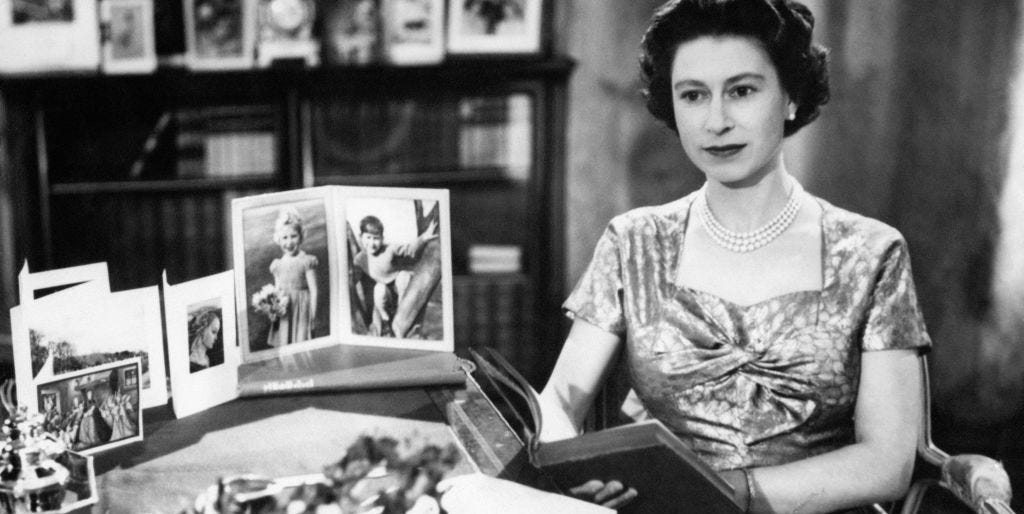 42 festive photos of Queen Elizabeth celebrating Christmas over the years
When December arrives, the royal family brings Christmas cheer not only to England, but to the world. When Queen Elizabeth ascended to the throne in 1952, she continued the tradition of making vacations a big part of life at Buckingham Palace. Over the years, she has sported many festive outfits, decorated many trees and hosted thousands of enthusiastic members of the public. For a true understanding of her holiday merriment, take a look at these photos of the Queen celebrating Christmas.
1 from 42
1929
A 3-year-old Princess Elizabeth holds her grandmother's hand at King's Cross Station on December 21, 1929. They were on their way to Sandringham Estate for the holidays.
2 from 42
1934
Princess Elizabeth (second child from right) sings Christmas carols with her family during a public concert at Albert Hall in London. The little girl in the photo is her younger sister, Princess Margaret.
3 from 42
1934
A few days later, Princess Elizabeth returned to Albert Hall with her family for a reception on December 23. Here, they are seen heading to their seats in the Royal Box.
4 from 42
1937
The Queen, Princess Elizabeth, Princess Margaret and King George VI pose for the cameras at King's Cross station, before heading to Sandringham Estate for the Christmas holidays.
5 from 42
1937
Moments later, a city car sweeps the royal family away. Inside, Princess Elizabeth greets spectators.
6 from 42
1941
During World War II, Princess Elizabeth and Princess Margaret were taken to Windsor Castle, while their parents stayed at Buckingham Palace. This is where Margaret proposed to put on a Christmas pantomime. Here, Elizabeth is dressed as Cinderella, as her mother hands her a fan.
7 from 42
1942
Princess Elizabeth spread the joy of Christmas even before taking the throne. Here's a greeting card she sent to the British Army Grenadier Guards Regiment.
8 from 42
1944
Princess Elizabeth shines on stage in a flowing white gown, as she performs alongside her sister in their annual Christmas pantomime. This year the show was Old mother's red riding boots.
9 from 42
1952
Just six months after her coronation, Queen Elizabeth is sitting by the microphone, paper in hand, preparing for her very first Christmas address to the nation.
ten from 42
1953
During her first royal tour, Queen Elizabeth made history as the first reigning British monarch to visit Australia. She also made a stop in New Zealand, where she gave her annual Christmas Day address via Government House Radio in Auckland.
11 from 42
1953
While in New Zealand, Queen Elizabeth and Prince Philip watch Santa Claus handing out gifts from the steps of the government residence.
12 from 42
1953
On that same trip, Queen Elizabeth was seen leaving New Zealand Cathedral Church of St. Mary, alongside the Bishop of Auckland, the Right Reverend WJ Simkin.
13 from 42
1955
Even members of the royal family deserve to have fun on Christmas. Here, Cyril Bertram Mills, aka the King of the Modern Circus, greets Queen Elizabeth with flowers, as she attends the Bertram Mills Christmas Circus.
14 from 42
1955
After taking a seat at the circus, Queen Elizabeth enjoyed the show with her husband, Prince Philip, and sister, Princess Margaret (far right).
15 from 42
1956
The Queen shares a laugh with her daughter, Princess Anne, and her son, Prince Charles, in the car as they drive to Sandringham for Christmas.
16 from 42
1957
Five years after becoming Queen, the monarch delivers her annual Christmas speech in the UK. She holds a copy of The The pilgrim's progression, of which she read a few passages. Fun fact: it was his very first televised holiday speech.
17 from 42
1968
Queen Elizabeth wears a salmon costume on the steps of St George's Chapel in Windsor. The Royal Family stop to greet the clergy as they leave the Christmas Day service.
18 from 42
1969
Queen Elizabeth chose this sweet photo of her smiling family on a trip to Norway for her Christmas card in 1969.
19 from 42
1969
Queen Elizabeth and Prince Philip admire their Christmas tree decorations, while filming a documentary on royal life.
20 from 42
1971
Nothing says "Christmas" like flipping through old family albums. Her Majesty is leafing through a ledger with two of her sons here.
21 from 42
1972
A lifelong dog lover (especially Corgis), Queen Elizabeth walks her puppies through Liverpool Street station. Her four-legged trio were traveling with her to Sandringham for the holidays.
22 from 42
1979
Horses have always been an integral part of the life of the royal family. In this picturesque photo, the Queen takes a ride in the snow during Christmas week.
23 from 42
1983
Queen Elizabeth looked as graceful as she could get, stepping out of St George's Chapel in Windsor at Christmas, sporting a midi skirt and a lace-covered fascinator.
24 from 42
1985
It was a family affair outside St Mary Magdalene Church in Sandringham in 1985. Queen Elizabeth (center) chats with members of the clergy, while her family watch. The snowy backdrop only adds to the magical Christmas vibe.
25 from 42
1998
Queen Elizabeth smiles as she looks at the ornaments on the tree at Buckingham Palace. Beside her is fashion designer Zandra Rhodes, who was there for an event for famous and amateur embroiderers who made 500 ornaments for the queen's tree.
26 from 42
1998
Coming out of the Christmas church service at Sandringham Estate, Queen Elizabeth and her mother receive flowers from an adorable little girl.
27 from 42
2000
Queen Elizabeth is Santa's assistant at Ascot Racecourse, handing out gifts to all the lucky children at the event.
28 from 42
2001
Looking majestic in a gorgeous blue dress, the monarch stands ready as she prepares to deliver her annual Christmas speech from Buckingham Palace.
29 from 42
2001
Queen Elizabeth (left) chats with Princess Alice (center) and her sister, Princess Margaret. They were celebrating Alice's 100th birthday, which fell on Christmas Day.
30 from 42
2003
For the very first time in history, the Queen recorded her Christmas message entirely outside a royal residence. Here she stands in front of tanks at Combermere Barracks in Windsor, as the theme of her speech that year was a tribute to the armed forces.
Advertising – Continue Reading Below
This content is created and maintained by a third party, and uploaded to this page to help users provide their email addresses. You may be able to find more information about this and other similar content on piano.io