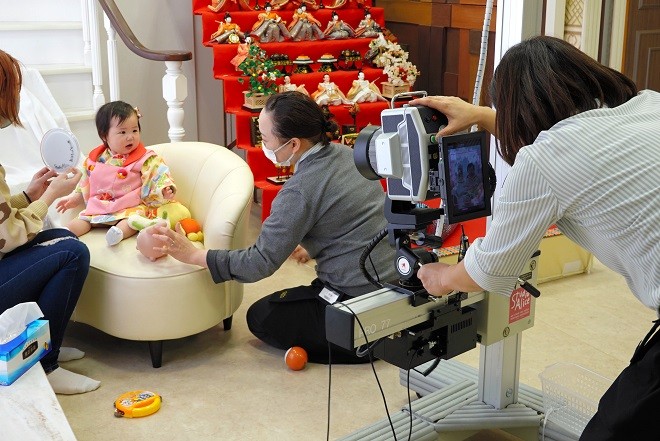 A chain of photo studios offers a haven for women
Almost all of the workers at a national chain of children's photo studios are women, and women make up 85% of management positions in the company.
Studio Alice Co., which is becoming a haven for women seeking long-term careers, began its transformation from a male-dominated corporate culture, not because of social pressure or in the name of equality. The company was primarily driven by economics.
Studio Alice was founded in the Kita district of Osaka as a chain of photo stores. He moved to children's photo studios 30 years ago.
One of the problems the company faced was keeping labor costs low during off-peak seasons. He incurred losses when three to four staff members attended to a group of customers during "off" seasons.
But keeping this number of staff was necessary during busy times, such as the "Shichi-Go-San" festival in November to celebrate the healthy growth of children at ages 3, 5 and 7.
Studio Alice ditched stereotypical roles, such as male photographers and female dressers, and began training staff who could do both jobs.
The female photographers seemed very adept at making the kids smile for photo shoots.
The company also made it easier for female employees to pursue careers while raising children.
New mothers could work reduced hours as stipulated by law. Studio Alice also offered them shorter shifts until their children finished their third year of elementary school.
This company system was used by 90% of eligible workers.
Studio Alice currently operates 470 studios and employs 3,457 people with an average age of 32.
Its sales reached 34.617 billion yen ($290.4 million) for the fiscal year ending February 2021.
Reina Ishii, 39, works at a Studio Alice store in Abeno Q's Mall in Osaka.
When a baby cries after being separated from its mother, Ishii points to a mirror or uses a hand-held fan to stop the bawling and sets up the perfect moment for a photo.
Ishii has two children of her own, aged 2 and 4.
"I can take an unqualified day off even when my kids suddenly have a fever," she said.
This is made possible through the company's sustaining member system, under which approximately 4,000 former regular and part-time workers are signed up to work at Studio Alice outlets when they are short-staffed during periods of peak or when their employees take maternity leave.
The system also allows women who have had to leave the company due to life events, such as childbirth, to work in suitable places and times of their choice.
Because photo shoots require strength, Studio Alice is thinking about ways to allow employees to continue working in 10 to 20 years.
The company launched a babysitter project in Tokyo in November last year.
"We hope to create a system in which employees can continue to work while raising their children and benefiting from their accumulated experience," said Junko Mori, director of the sales and planning division.
Its services are not limited to employees.
In 2018, the company launched a special project to support mothers by opening breastfeeding rooms in photo studios for free public use. He has also organized seminars on raising children.
Studio Alice has also worked to meet the needs of young adults for their coming-of-age ceremonies as well as seniors.