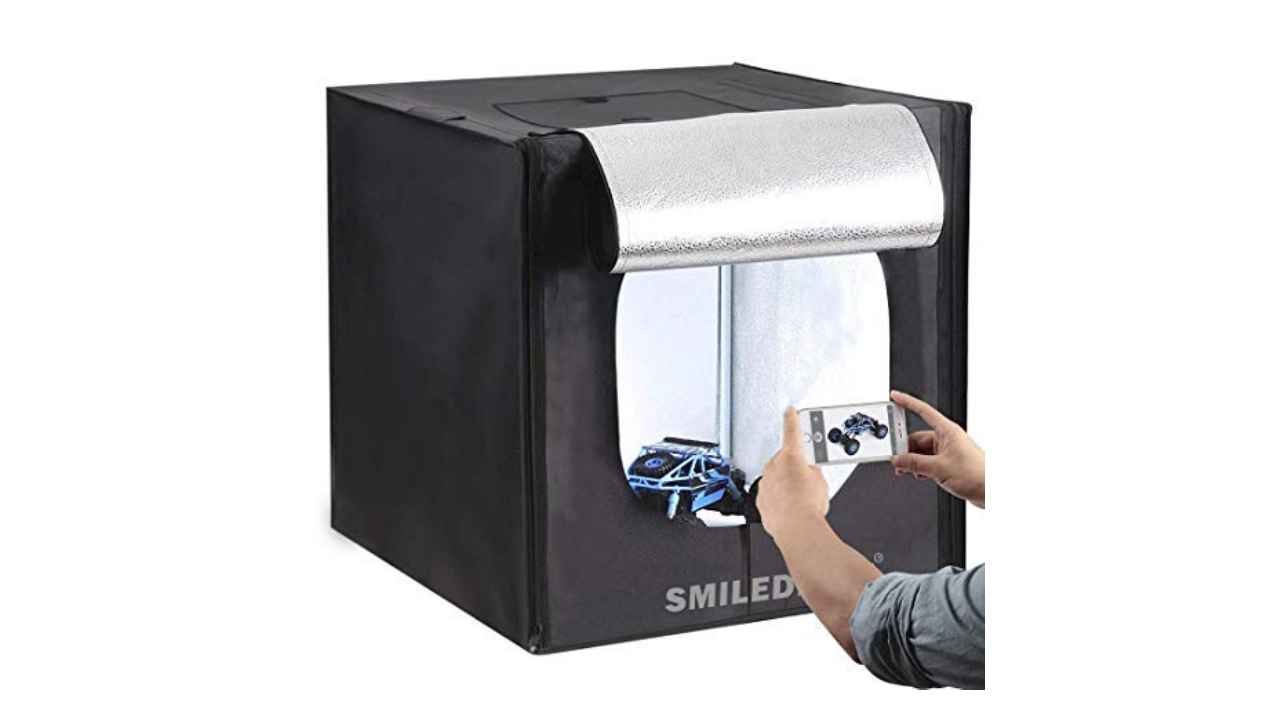 Best Portable Studio Light Boxes for Product Photography on Amazon India
Give your product photography portfolio an aesthetic look with these portable studio lightboxes designed for optimal lighting.
Whether you're a seasoned product photographer or just starting out, you might already know that you need a consistent, even stream of light for the perfect photoshoot. Without proper lighting, the true essence of the product cannot be captured. However, transporting huge lighting equipment from your studio to the site can become difficult and expensive. But there is an easy way around this problem, and that's with portable studio lightboxes. These are portable, affordable, and most importantly, provide an even stream of light. If you're looking for the perfect portable lightbox for your studio, make sure the one you end up with is powered by top quality LED lights and has a sturdy construction. Here are some good options for portable studio light boxes on Amazon.
Smiledrive portable light box
The Smiledrive portable light box is equipped with high quality LEDs which help to give the most accurate image of the products. Featuring a reflective inner wall, the light inside the box can evenly bounce around every corner. This means optimal lighting conditions! The lightbox includes a brightness adapter to allow you to modulate the brightness according to your needs. Also, there would be no harsh glare inside the box, thanks to its light diffuser. Thanks to its large size of 60 x 60 x 60 cm, the Smiledrive portable softbox can be used to photograph all types of products, from cosmetics and gadgets to bags and even jewelry. It can be opened from multiple sides (front and top), allowing you to shoot from the angle that best suits your needs.
Syga portable softbox
The Syga Portable Softbox is powered by a removable LED strip that can be attached anywhere inside the box. This allows you to reduce shadows and freely adjust the angle, which allows for ideal multi-angle shooting. Its entire structure has been designed with PVC material which makes it not only durable but also waterproof. Offering 2 background blocks (black and white), this lightbox offers endless versatility. With a white LED strip that provides soft, flicker-free and brilliant light, rest assured that the Syga Portable Softbox leaves no room for glare or shadows. In terms of sturdiness, it comes with 3 anchor screws and a metal support for maximum stability.
Osaka portable light box
The Osaka portable softbox has multiple openings and closings to choose any photo shooting position. Equipped with particulate silver film reflective fabric inside, this portable light box can spread light evenly, avoiding vignette and shadow. It features a hook-and-loop design that can be transported and installed without hassle. No rods, no connectors and no complicated assembly! The lightbox can be folded into a storage bag for easy mobility. To ensure that you can easily change the brightness levels, the Osaka portable softbox has a rotary knob for adjusting the brightness. It also has a total of 3 backgrounds (black, white and orange), so you can set any studio scene. Along with these specs, it also boasts 5500K color temperature and flicker-free light.
Bright room Nylsa Mini
The Mini Light Room Nylsa can be folded up and put in an envelope, allowing you to build a photo studio in just 10 seconds! It is available in a dimension of 22 x 22 x 10 cm, which makes it ideal for photographing small objects, such as watches, toys and jewellery. This lightbox comes with 2 backgrounds (black and white), giving you the flexibility to change the background as you need. It runs on an integrated LED light strip with 20 LEDs, ensuring bright and stable light. You can power the Nylsa Mini Light Room via a power bank or charging adapter, thanks to its compatibility with USB.