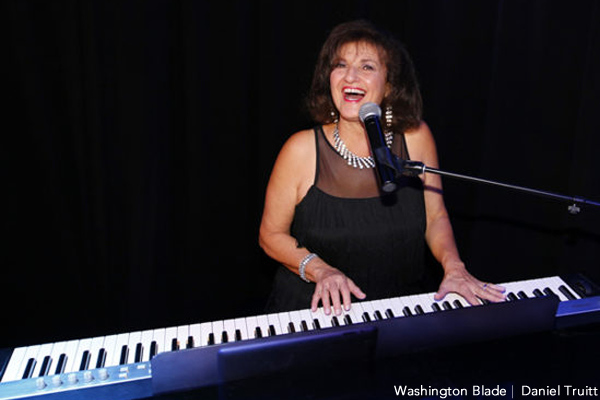 Children's Beach House to Host Holiday Fundraiser
Last year, the pandemic forced many event planners to cancel their plans or move everything entirely online. However, this year, with the increase in the number of people vaccinated and the mask mandate in place, events are slowly returning to the in-person format. Check out the list below for a nice mix of in-person and virtual events to watch out for this fall:
Smithsonian Associates will host "Palestinian Embroidery 101: The Tatreez Sample Series "Friday September 17th at 2pm. This online event teaches the art of Palestinian embroidery, including basic Palestinian cross stitch and how to create a tatreez sampler, using Aida fabric. The course will be given by Wafa Ghnaim who started his embroidery training with his mother at the age of 2. Visit the Smithsonian website for more information.
Join the Capital Pride Alliance virtually to celebrate the 10th anniversary of the repeal of "Don't Ask, Don't Tell" Monday, September 20 at 7 p.m. This event will focus on "[supporting] the struggle continues for the full inclusion of transgender and intersex military personnel. Keynote speakers are former Rep. Patrick J. Murphy and Jennifer Dane, Air Force veteran and executive director of the Modern Military Association of America. Guests will hear extraordinary stories from military personnel from all branches and learn about the struggle for the codification of transgender military service and efforts to lift the ban on service for intersex people and people living with HIV. For more information, visit the Capital Pride Alliance website.
The LGBTQ Intergenerational Symposium 2021 will take place on Thursday 23 September. This is a free two-day virtual event sponsored by the DC Department of Aging and Community Living, Capitol Hill Village and DC Villages and is open to LGBTQ people and allies of all ages. There will also be a virtual kickoff for attendees, speakers and the organizations involved to get to know each other. Each day will consist of two health and wellness sessions, a panel and a breakout session.
The Smithsonian Center for Astrophysics will host New perspectives in astronomy: imaging a black hole Thursday, September 30 at 7 p.m. This event will celebrate the 51st year of the New Vistas in Astronomy lecture series at the Fred Lawrence Whipple Observatory (FLWO). There will be speakers from the many scientific divisions of the Harvard & Smithsonian Center for Astrophysics led by the Founding Director of the Event Horizon Telescope (EHT) Shep Doeleman.
DC Front Runners will host their 40th Anniversary Party on Saturday, September 25 at the Jack Rose Dining Saloon at 3 p.m. ET. This event will be held outside on the large roof terrace. Tickets for this event cost $ 35 and cover two drinks, hors d'oeuvres and hors d'oeuvres. You can open a tab at the bar after using your drink vouchers. Drink tickets for paying participants will be available from mid-September on the slopes, and also available on the day of the event by contacting Josh Yankovic. More information about this event is available on the DC Front Runners website.
All Things Go and the Capital Pride Alliance join forces to launch "Club pride", a third stage and dance party at the All Things Go music festival on Saturday, October 16. This full-day event will feature special performances by intimate artists, DJ sets, special guests and more throughout the day. Access to Club Pride is included with all festival tickets. Club Pride is located on the 9:32 stage of the Merriweather Post Pavilion. For more information, visit the Capital Pride Alliance website.
Capital Pride Alliance will host the very first "Colorful party" which will include a neighborhood party and a street fair on Sunday, October 17. The street fair will feature small independent businesses, community groups, artisans and food along 15th Street. The Block Party will feature entertainment, a pop-up As You Are bar and dancing throughout the day for guests 21 and over. For more details, visit the Capital Pride Alliance website.
Smithsonian Associates presents "The philosophical thought of Thomas Aquinas" Thursday, September 23 at 6:30 pm This event will be hosted online and Aquin researcher Gregory T. Doolan will explore Aquinas philosophical thought. The work of Thomas Aquinas presents one of the most complete philosophical systems of Western civilization. Although a theologian by profession, this man of faith has devoted much of his extensive writings to discerning what the human spirit can learn independently of faith. For more information, visit the Smithsonian website.
"SMYAL's Annual Fall Brunch" will take place on Saturday November 6 at 10:30 am at the Marriott Marquis. This event includes a cocktail party including a silent auction, a three-course brunch and a chance to hear from some of the most inspiring leaders in the LGBTQ community. This event will bring together LGBTQ people and allies, friends and families to support the inspiring youth that SMYAL works with every day. For more information, visit the SMYAL website.
DC Area Transmasculine Society (DCATS) will host "Transmasculine and non-binary social hour Tuesday, September 21 at 6 p.m. at the Red Bear Brewing Company. At this social hour, DCATS will accept donations of filing cabinets and will also distribute needles to those in need. All partners and friends must be accompanied by a transmasculine person. The event is for reservations only and you can confirm your attendance online at Eventbrite.