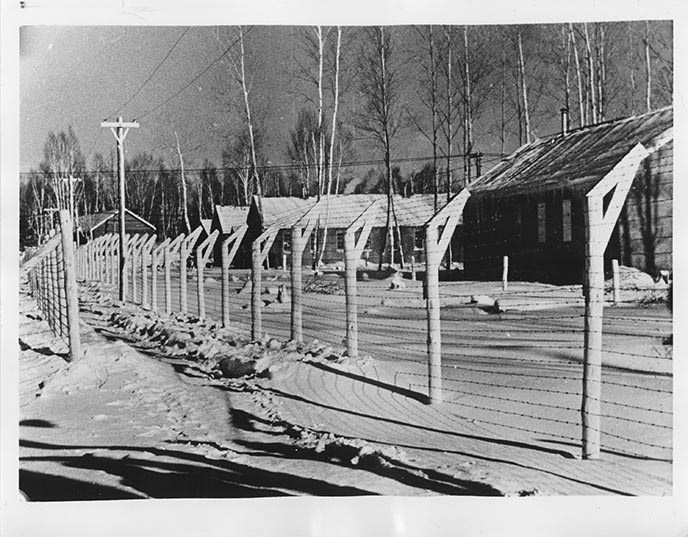 'I feel it so deep in my heart': Trudeau's apology resonates with city's Italian community
Four Italian-Canadian men from Sudbury among internees during World War II
The federal government's official apology on May 27 in the House of Commons to Italian Canadians for their treatment during World War II resonates here in Greater Sudbury, which has a large Italian-Canadian community.
In 1940, after Italy joined World War II as an ally of Germany, more than 600 Italians were interned in camps under the authority of the War Measures Act and of the Defense Regulations of Canada.
About 31,000 Italian Canadians were declared "enemy aliens" and had to report to local registrars once a month.
Registrars were appointed by the Minister of Justice and were provincial or municipal police officers, including Royal Canadian Mounted Police (RCMP) officers or postal clerks.
"Canadians of Italian descent have helped shape Canada and they continue to be an invaluable part of the diversity that makes us strong," said Prime Minister Justin Trudeau, who, along with representatives from other federal parties, apologized to the House of Commons. Last week.
"Today, as we recognize and address the historic wrongs committed against the Italian-Canadian community, we also show our respect for their great contributions to our country.
The apologies "are slow in coming," said Diana Iuele-Colilli, who until recently taught in the Italian Studies program at Laurentian University.
(The Italian Studies program was cut due to Laurentian's insolvency, and Iuele-Colilli, who had to withdraw from Laurentian, is now known as Professor Emeritus. Iuele-Colilli is also Honorary Vice-Consul in Italy in the Sudbury district.)
"The National Congress of Italian Canadians has been lobbying the government for years," she said.
Former Prime Minister Brian Mulroney apologized to the Italian-Canadian community in 1990 at an informal dinner in Vaughan, but it never officially happened in the House of Commons as it was the last week.
Iuele-Colilli said eight men from Greater Sudbury were initially detained after Canada's declaration of war on Italy, and four of them spent time in internment camps in places like Petawawa, for periods of six months to three years.
For example, Sudbury doctor Dr. Luigi Pancaro, who spent three years at the Petawawa internment camp, where he provided medical care at the camp hospital.
Emilio Galardo, owner of a photography studio in Sudbury called Galardo Studio, was also interned.
The families of these internees did not know where their loved ones were going or when they were returning, and found themselves grappling with financial difficulties, often ostracized by the community.
Iuele-Colilli said she knew a family whose wife was born and raised in Copper Cliff, but as she was married to an Italian national (who was not among the men arrested) the whole family had to get caught his fingerprints once a month.
"It has had tremendous social, economic and spiritual impacts," she said.
"The people who were interned all eventually left, but their children and grandchildren lived with shame at being affiliated with an internee or someone who was seen as an enemy alien. This apology today will go a long way towards redress. "
Sudbury-born journalist Angela Scappatura, whose grandfather, Francesco Scappatura, was taken from his home in North Bay in 1940 and interned in Petawawa for four months, also listened to the apology last week.
Five years ago Angela produced a documentary on his grandfather's story for CBC Radio. She said her late father, Frank, was five when her father was taken to the internment camp. He sneaked into the station every day to see if he had come back.
"He was so desperate that his father was home," Angela said.
She said her grandfather, a successful business owner from North Bay, was sent to the camp because of comments her brother made to a local newspaper owner in support of Italian leader Benito Mussolini.
The family struggled to keep their businesses afloat and faced discrimination from the community.
When Francesco finally returned home, he didn't want to talk about his experiences.
Angela said Trudeau actually referred to his grandfather's story in the House of Commons apology last week.
She explains that she and her aunt Anita Tosto, who is 90, participated in a video chat with Trudeau on the subject a few weeks ago.
"It means a lot to me," Angela said. "I feel so deep in my heart that my aunt is here, and being able to hear her name on the floor of the House of Commons, and just hear the trauma she experienced as a child is recognized.