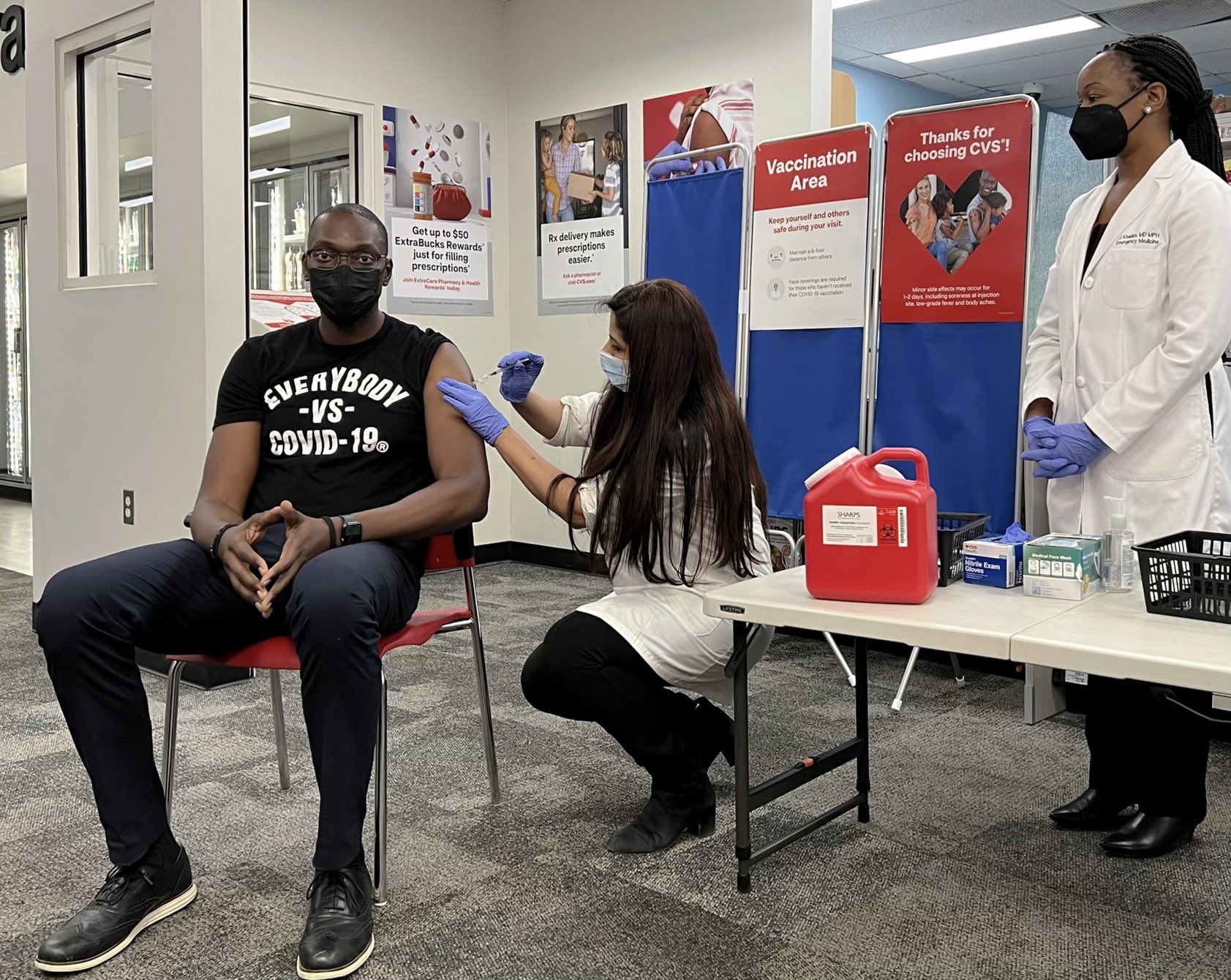 PHOTOS: Lt. Gov. Gilchrist receives safe and effective COVID-19 vaccine booster
PHOTOS: Lt. Gov. Gilchrist receives safe and effective COVID-19 vaccine booster
FOR IMMEDIATE RELEASE
November 19, 2021
Contact: [email protected]
PHOTOS: Lt. Gov. Gilchrist receives safe and effective COVID-19 vaccine booster
LANSING, Mich. – Lieutenant Governor Garlin Gilchrist II received a booster shot of the safe and effective vaccine today Pfizer-BioNTech COVID-19 vaccine on the recommendation of his doctor at a CVS Health pharmacy in Detroit. Michigan ranks 7e nationwide in the number of booster doses administered, with over 1.1 million Michiganders having received their booster to date.
"After losing 27 people in my life to this deadly virus, I am choosing to do what I can to protect myself, my family and everyone around me," said Lieutenant Governor Gilchrist. "Safe and effective vaccines have been shown to be incredibly effective in preventing people from contracting the virus, being hospitalized or dying. That's why I ask every Michigander to get their primary doses – for them and their children to. Ages 5 and up – or make an appointment to receive a booster if you've already been vaccinated. We can all safely gather around the table with our loved ones this holiday season if we choose to protect each other others.
The FDA amended the emergency use authorization to allow the use of a single booster dose for the three vaccines Pfizer-BioNTech, Moderna and J&J. Eligible people can choose which vaccine they receive as a booster dose. Some people may prefer the type of vaccine they originally received, and others may prefer to receive a different booster. CDC recommendations now allow this type of mixed dosage for booster injections.
Michiganders should bring their COVID-19 vaccination card or vaccination record with them when they receive their booster dose. Immunization records are available online on the Michigan Immunization Portal for many residents and can be downloaded and printed. To obtain their file, Michiganders must create a MILogin account on Michigan.gov/MiImmsportal and upload a valid government-issued photo ID, such as a driver's license, state ID, or passport. Access to the portal is free.
To date, 70.3% of Michigan residents aged 16 and over have received at least their first dose of one of three safe and effective vaccines. From January to October 12, unvaccinated Michiganders accounted for 93.1% of COVID cases, 90.7% of hospitalizations and 90.5% of deaths.
Michigan residents can also receive their flu shot along with a booster dose.
To learn more about the COVID-19 vaccine, visit Michigan.gov/COVIDvaccine. For more information on COVID-19 in Michigan, visit Michigan.gov/coronavirus.
###