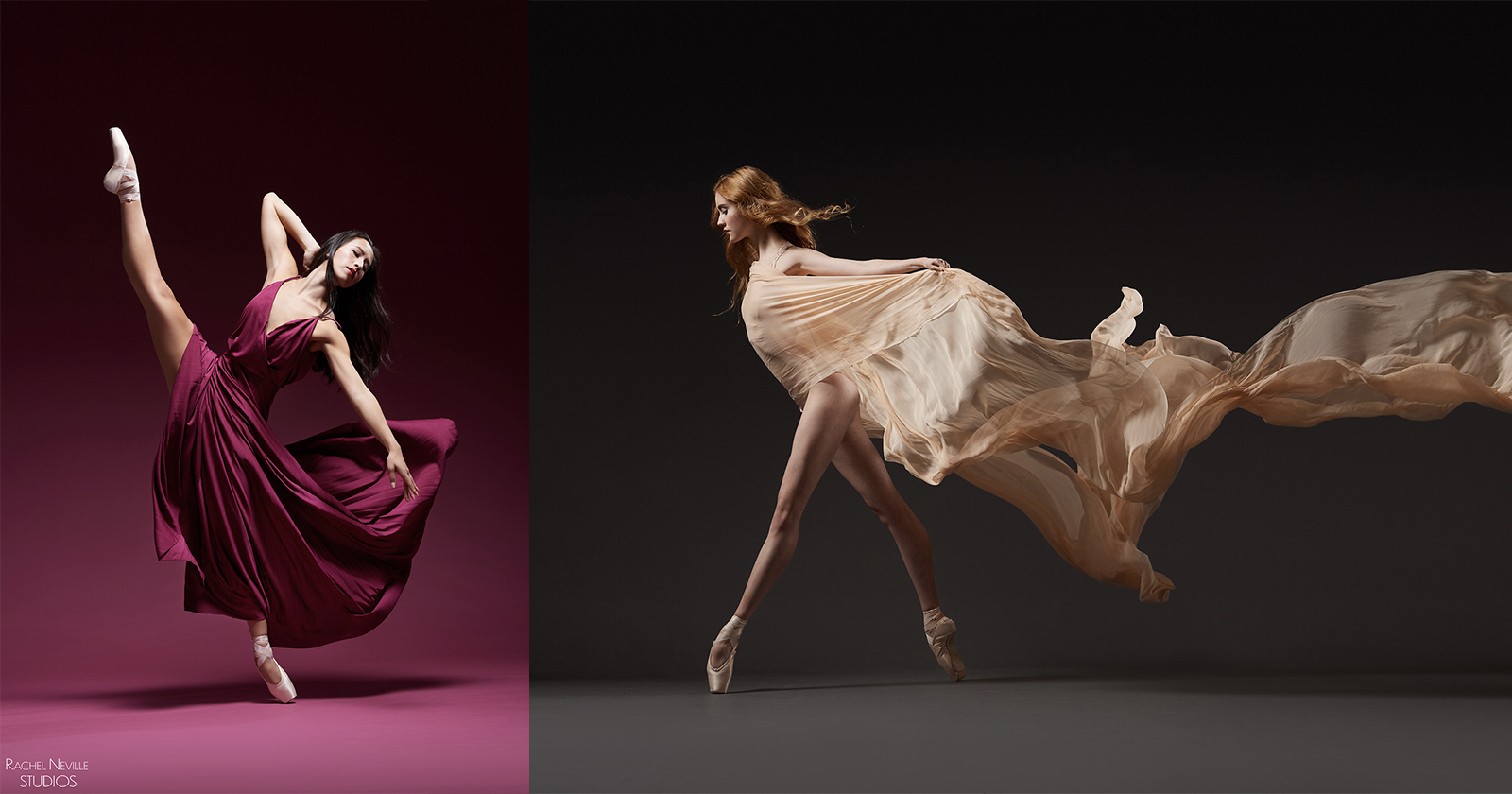 Professional Dancer Goes From Career-Ending Injury To Master Photographer
Retired professional dancer Rachel Neville didn't let her career-ending injury slow her down and founded a successful photography business using her industry experience and teaching skills to create dynamic shots and powerful dancers.
From on stage to behind the lens
Rachel Neville founded her Rachel Neville Studios in 2014 after retiring from her dancing career. A graduate in photography, she developed her photography experience before setting up her own studio and pursuing dance photography as a full-time niche.
Today, she runs her New York-based studio with help from Andrew Fassbender, who has also trained and danced professionally. Over a decade ago, Neville took his audition photos before coming full circle and retiring from dancing and joining his studio as studio manager and second shooter.
The studio's mission is "to have a positive and lasting impact on the well-being and sustainability of the dance world," Fassbender said. PetaPixel. "We achieve this through the creation of high-value, engaging and trust-building media. We help dancers find jobs and businesses sell tickets.
In the modern digital age, attention-grabbing photos are essential because they show a dancer's technique in great detail. Photos like these can help stand out during audition submissions when dancers have seconds to grab the director's attention.
"For dancers, their social media, in a way, is their wallet, and their presence in digital marketing can have such a strong impact on the viability of their career trajectory," says Fassbender.
The artistic expression of dancers in front of a lens
The studio offers two types of shoots: audition and creative. While audition shots are an investment in a dancer's portfolio, creative shots allow both the dancer and the photographer to shine on a different level by combining artistic ideas with poses and striking movements.
The creative shots process begins with a detailed questionnaire that serves to learn more about each dancer's ideas. Some come with a fully fleshed out mood board, while others completely trust the vision of the two photographers. For example, the studio is known for working with fabric and colorful backgrounds, so some dancers may also opt to incorporate these elements into their creative shots.
Neville and Fassbender's extensive dance experience helped them understand both sides of the camera well. Before any artistic expression in photography, the top priority when shooting is the safety of the dancer.
"A dancer's body is their instrument, and they can't afford to hurt themselves in a photo shoot – it could totally put their career on the sidelines," says Fassbender. "Be aware of the surface you are working on, making sure the dancer is not doing, for example, repeated jumps on a cement floor."
When it comes to creative compositions and choosing the right settings, Fassbender recommends photographers familiarize themselves with the timing of the movements or poses they wish to photograph. Learning how they unfold will help to understand when to press the shutter button.
"Some movements are very fast and some are slower," he says. "I would recommend firing in a single shot and not in bursts so you have full control over exactly when to fire. You can also ask your dancer to come prepared with a moodboard of the poses they want to do to help you to get you started in the filming process.
More of the studio's work can be found on its website and Instagram.
---
Picture credits: Photos by Rachel Neville Studios.