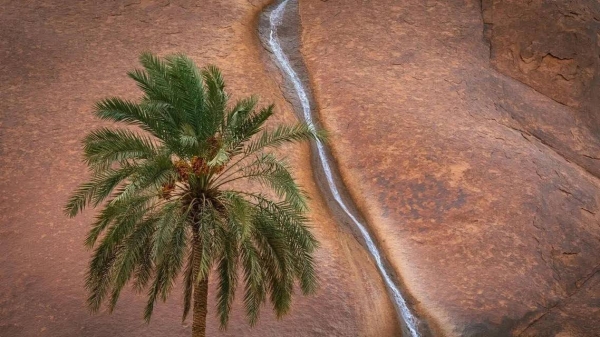 Saudi Photographer Wins Prestigious Prize Thanks to Google Map Error
Saudi Gazette report
RIYADH — Abdul Rahman Al-Baria, a Saudi photographer, has won third place in the "Palm in the Eyes of the World" competition for the Sheikh Khalifa bin Zayed Prize, now in its 13th edition, with a photo of a palm and a silver stream.
The competition featured 1,064 photographs submitted by 363 photographers from 24 countries around the world.
In an interview with Al Arabiya Network, Al-Baria explained that the winning shot was completely accidental, saying he was with his friends in Hail and did not want to take the camera as he was involved in an event. "But at the last minute I decided to shoot it," he added.
Al-Baria said that after arriving in Hail, he used the Google map to reach his destination, but an error on the map led him to a place called Iqdah. He said he was surprised by the beauty of the view. "So I took a photo of a palm tree with a waterfall behind it, which I thought was worthy of the Khalifa bin Zayed award," Al-Baria said, adding that the photo has already turned out be a huge success.
Al-Baria enjoys photographing heritage, nature and cities and has amassed 19 local and international awards for his work.
Additionally, he said, he has participated in numerous national and international exhibitions to showcase "all that is beautiful about Saudi Arabia, which stands out for its unique landscape."
He said he had many popular and widespread photos, including photos of camels and lakes. One of his photographs of Riyadh has gone viral with 6 million views on his social media accounts. It was commented on by the Minister of Culture and Entertainment.
He also pointed out that the image of camels and Tuwaiq won the world's most expensive prize worth SR120,000 at the King Abdulaziz Festival.