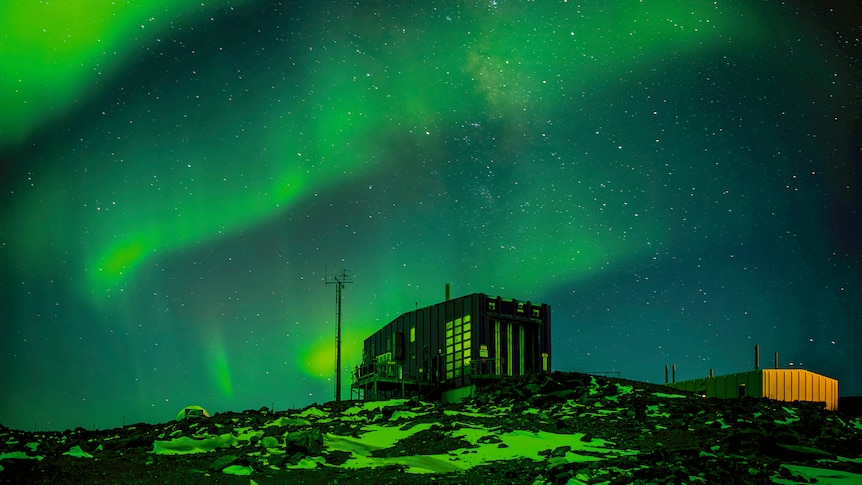 The Bureau of Meteorology calendar features devil's dust, powerful storms and stunning lights
Some of Australia's most spectacular weather photos are on next year's Bureau of Meteorology calendar.
Each year, the agency selects 13 weather-themed images for its calendar, and this year's top picks were selected from 1,400 entries.
The cover photo is an image of a dust devil captured near Whim Creek in the Pilbara region of Western Australia by photographer Coral Stanley-Joblin.
During a year of major weather events, photographers captured an aerial gust taken in Normanton, Queensland, a powerful lightning bolt near Forster, NSW, and a salt dust storm in Kati Thanda ( Lake Eyre) in South Australia.
Other images include massive swell, stunning cloud formations in Queensland and frost in Alpine Victoria.
Patience Pays for the WA Photographer
Western Australian photographer Grahame Kelaher is featured in the calendar for the first time.
His photo of the Aurora Borealis over Lake Norring near Wagin is in the spotlight as a January photo.
"One in 10, you might get a nice picture of it, [the aurora]," he says.
"We went to the lake, got settled and waited until about 1 am… we could see ghostly white lines in the sky and see it bursting with color on the camera.
"It's rare and unique, hard to come by, so that makes it even more special."
Aurora is also featured in another image taken at the Australian Meteorological Office at Davis Station in Antarctica by Barry Becker.
Calendar adds to weather education
The office's senior meteorologist, Dean Narrmore, says the calendar is an opportunity to educate people about the diversity of weather conditions across Australia.
Mr Narrmore says his favorite image from next year's calendar is a supercell thunderstorm taken near Gympie in Queensland by Bet Wright.
Supercell thunderstorms are strong, short-lived storms that can exist for hours.
"Supercells are an awesome sight, but a lot of people don't realize how dangerous they can be," he says.
"This brought very strong winds, heavy precipitation and in some areas hail that could reach the size of a tennis ball.
"The rotating base you can see in the photo makes it clear that the storm is severe and potentially dangerous conditions may be on the way."